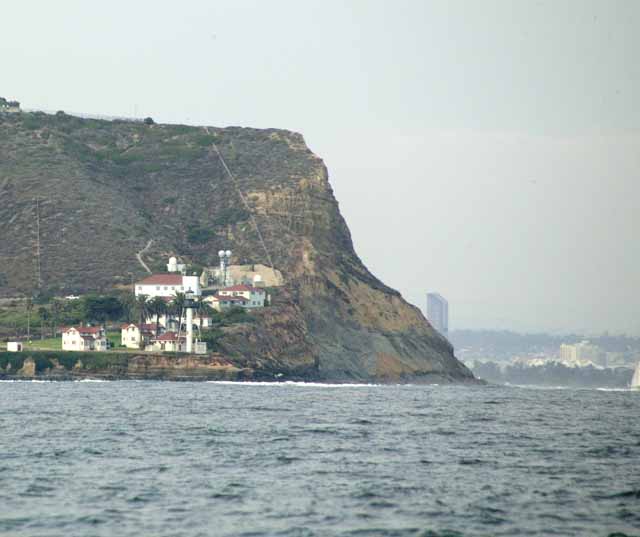 July 24: Home at last. After a month at sea, we arrived safe and sound back in our San Diego slip. After so long, one might guess we were anxious to get back. Not so! We could have easily kept on sailing and sailing and sailing. After having so many days with great winds, today's fourteen hour trip was plagued with lazy winds as if even the boat didn't want to go home. We had a great time in Two Harbors and met some wonderful people. The Tempest and her crew definitely need some clean-up, but we'll be ready to sail again with grins by the next sunrise. There's more to see and learn by traveling the seas than we could pack into ten lifetimes. But we're going to do our best!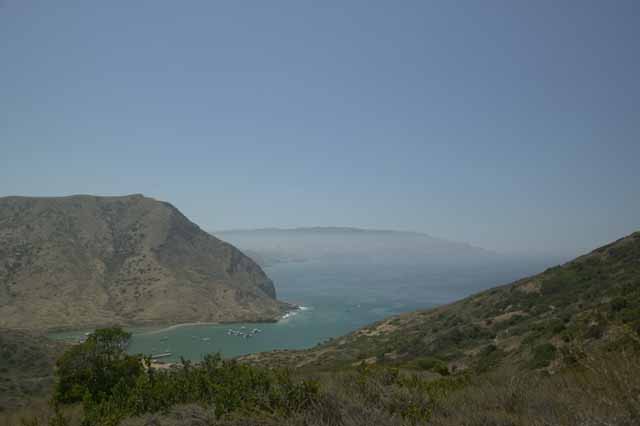 July 22: Two Harbors is at the Isthmus toward the west end of Santa Catalina Island. We had a nice sail in yesterday and wasted no time in ordering a glass of the famed "buffalo milk". To my knowledge, it is served no place else on the planet. (It's not really buffalo milk; it's a concoction invented by some itinerant bartender here.) The Isthmus consists of Two Harbors on the north side and Cat Harbor on the south side. They're separated by about a quarter mile of land which contains one restaurant, one store, one bar, one beach, and one bed-and-breakfast with about ten rooms. The harbors are packed for the weekend. The winds are blowing hard. There's quite a bit of surge. The weather's completely perfect. We climbed a little mountain this morning and the views were magnificent. This is truly the tough life. More pictures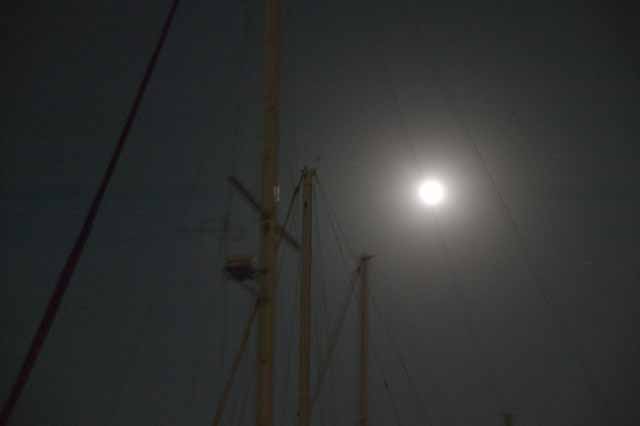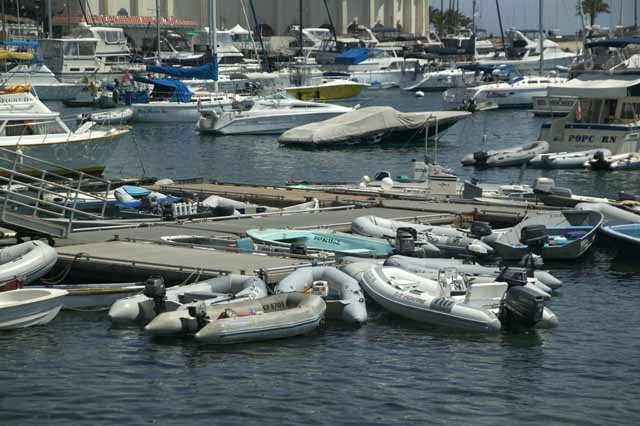 July 20: Santa Catalina Island has given us access to something we haven't had in a long time - sunshine. The weather here has been absolutely perfect morning, noon and night. The town of Avalon seems to be a strange blend of the Mediterranean, Ensenada, Southern California, and touristville, especially when the cruise ship is in and 2,000 cruzeros wander the streets seeking souvenirs. There are no slips for boats here so we and our 200 or so neighbors tie-off on mooring balls in Avalon Bay. We get to shore via dinghy or the water-taxi that blows through here at speeds suitable for pulling up water-skiers. Another cruise ship is pulling in as we enjoy breakfast on the boat and soon the streets will be overrun with tourists again. There's a lot of cheesy merchandise in the stores in town, but at least it's expensive. Generally, restaurants offer what you'd expect in a town tied to tourism, but we have found a couple of outstanding spots. We're enjoying ourselves so much here we've decided to stay one more day. Tomorrow morning, we're off to the isthmus. We haven't decided on which side (Catalina Harbor or Two Harbors) of the island we'll throw the hook. One of the biggest joys of sailing is not having to make plans that are too binding. More pictures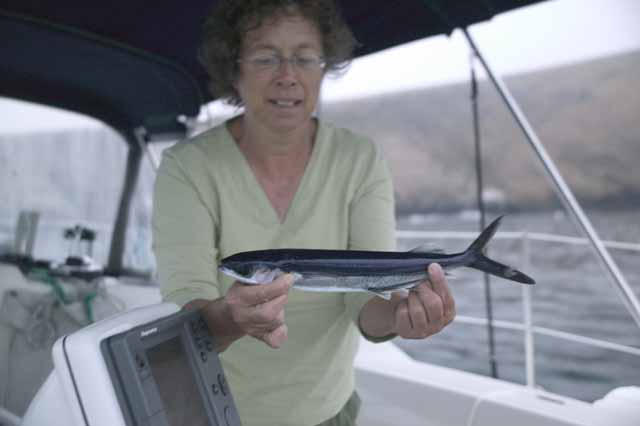 July 18: We had a wild and rocky night anchored off the shore of Santa Barbara Island. The winds blew 15-25 knots all night and the seas were pretty testy. We had to put a lot of anchor out but held our ground. With the conditions getting worse, we thought it best to sail to Santa Catalina Island today rather than have the storm blow us there. It was sort of like joining the army instead of getting drafted. You knew you were going; it was just a matter of having the satisfaction of making the choice yourself. Santa Barbara Island was beautiful, but not exceptionally welcoming on this trip. In fact, the seas were so rough, a fish tried to commit suicide (and succeeded) by jumping into our boat in the middle of the night. In the picture, it appears to be not much more than a foot long, however, it's merely a matter of perspective. Liz is actually in front of the fish so she looks bigger. The fish is actually 8½ feet long and weighs 489 pounds. The fish probably assumed we were such proficient fishermen, it would be easier just to jump in the boat because we were going to catch him anyway. Sort of the join or be drafted thing all over again.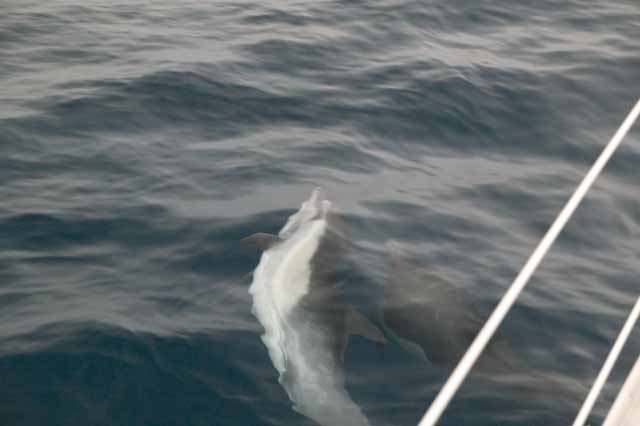 The trip to Catalina was fairly uneventful; the usual welcoming committee of dolphins, a few boats passing in the fog. The further we got from Santa Barbara Island, the more the seas laid down. After sailing the seas north of Santa Barbara Island, a few 5 to 8 foot swells were a welcome relief. Yesterday, we were the only ones on our island. Today, we have other boats all around. It's a different world here. More pictures
July 17: We've arrived at Santa Barbara Island. Winds were almost nonexistent at 7 a.m. when we left Channel Islands Harbor. We were a bit frustrated and wished for more. There's an old adage about being careful what you wish for because you might just get it. It seemed like they almost suddenly went to 12-14 knots - then 18. We were maxing again with ear-to-ear grins. We had to dance with a 280 thousand ton oil tanker as we crossed the shipping channel. We were on a starboard tack which technically gave us the right-of-way. We considered telling the tanker to change course, but didn't want to give the skipper a chance to put another decal of a sailboat on his bow. We graciously changed course and went astern of the tanker.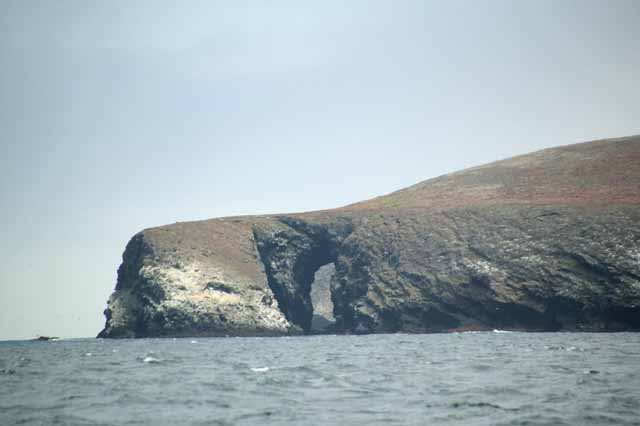 By the time Santa Barbara Island came into view, we were in 20-22 knot winds and were moving like a twelve ton surfer. We ducked around to the windward side of the island for protection and set the anchor. The winds in this "protected" area are a steady 22-23 knots. Monster waves are crashing ashore from the surge, but there are white-caps screaming by us in the other direction. If we stand and look to the rear, the waves are racing away at such a rate, it fools the senses into thinking we're headed for shore full-speed-ahead. Even though we're anchored, the winds and waves are throwing us around so much we're actually doing between one and two knots while at anchor. A friend of ours (Bob Alexander) calls anchoring "swinging on the hook". This is quite the understatement here. So far, the anchor's holding and we haven't set a second one. I just heard a report on the marine radio that seas near Hurricane Emily are 35-45 feet with winds of 150 miles-per-hour. I guess this is a picnic ground in comparison.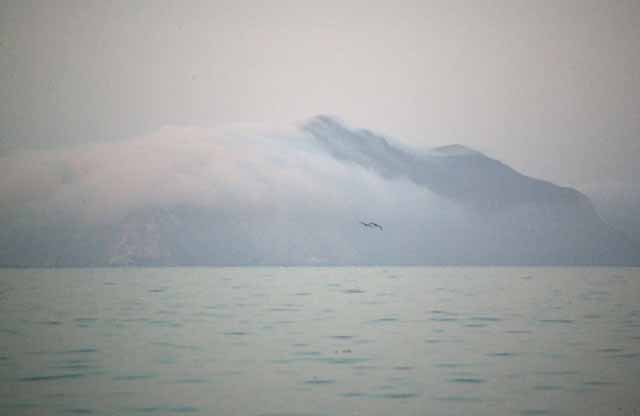 July 15: It is with great sadness we must report . . . Howard has lost his Big Johnson. We sailed to Channel Islands Harbor to reprovision and to replace a couple of "affected" items that were with us for fun-on-the-beach the other day. We found a cell phone dealer and both of us have new cell phones (with the same numbers). The most expensive victim, the camera, appears to have survived. I'm still cleaning salt out of hinges and holes, but it's working. But the Big Johnson is a goner. After spending a few hours trying to clean carburetors, plugs and other innards, it was pronounced dead yesterday morning. Services are pending. We have replaced the big guy with a new and smaller Nissan motor. After riding around with a Big Johnson for so long, having the wee Nissan seems almost unmanly, but Liz says size doesn't matter. Good thing.
Channel Islands Harbor has a different name than the city in which it is located. If your city was named Oxnard, you'd rename your harbor too. It seems to be a nice enough place and the people have been pleasant and friendly. We're stocking up for an early morning departure for the smallest of the Channel Islands, Santa Barbara Island. It's about 45 miles south of here in the center of the island chain. It's about one square mile of land and is a challenge to go ashore, but we plan on doing so. To not go on the island would desecrate the memory of Howard's Big Johnson. More pictures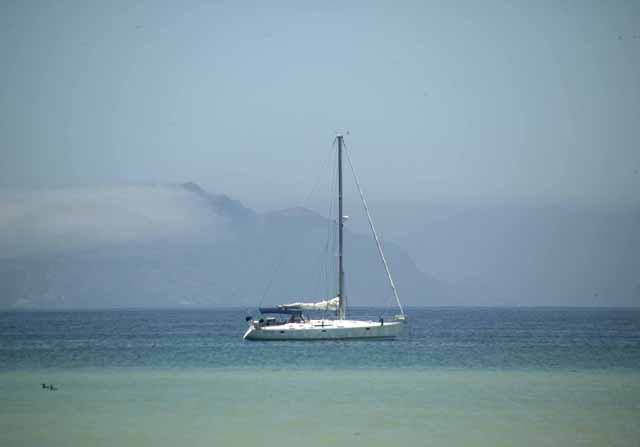 July 13: We listened to the Coast Guard weather report on the marine radio yesterday afternoon and looked at each other with raised eyebrows as we learned the gale that's been blowing to the north was headed our way. It said not far from Point Conception, winds would be greater than 40 knots and seas would be as high as 18 feet. We decided to leave Pelican Bay early today and sail for the south side of Santa Cruz Island for a little protection from the blow. By 10 a.m. we were nearing the Anacapa Passage and the seas were definitely picking up a lot. The good news was we had some super wind so we were making great time. More pictures
Within about 30 minutes, seas had gone pretty wild with water coming over the bow. Winds were 20 knots and gusting to 25. We we towing the dingy so it was helping to slow us down but we were still doing 8 knots. We were maxed out. Our strategy to get to the south side of the island was looking better and better. We ended up with a double-reef to keep from being overpowered and we were still pushing 8 knots. On the sail north, we wondered where the supposedly tough Santa Barbara Channel was hiding. We didn't see anything of even the slightest concern. Our questions are now answered. Even though we were in total control at all times, we felt it prudent to get the life-vests out. Liz said it was just to keep her warm. The truth is that if the leading edge of the gale picked up another ten knots, we would have had to pucker up a bit more. Frankly, we were having a blast, but it was definitely and "E Ticket" ride.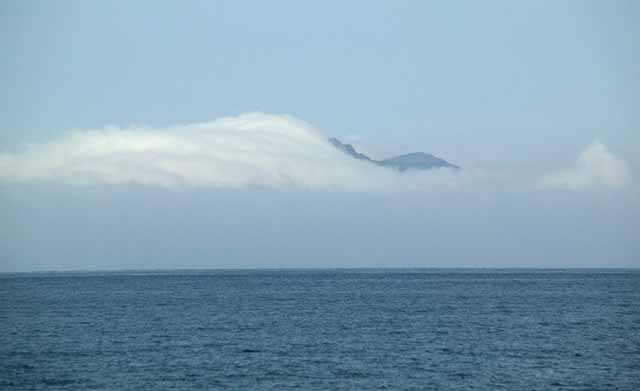 It was amazing to round the southeast corner of Santa Cruz. I expected the island to knock the winds down to a bit more manageable levels, but they actually came to a dead stop! We could look 300 yards behind us and see the sea churning and big waves breaking everywhere, yet we were suddenly becalmned. We just smiled at each other and went about the task of picking up the various objects that had been thrown about the boat by the tumultuous seas. Cool!
We headed around to a long, exposed beach with a respectable anchorage. We'd spend the night at "Middle Anchorage". Once anchored, we decided to go ashore and climb the little coastal mountain. The surf was picking up, but I thought we'd find a comfortable landing. I learned the oars on the Zodiac dingy weren't designed for "power" rowing. I broke one putting a little too much muscle to it. I paddled with one oar and a wave launched us onto the beach. We took a short hike, but with the tide rising we didn't want to risk losing the dingy so we returned to the beach.
By now, the surf had picked up considerably and it was apparent getting the dingy launched was going to be challenging. On our first attempt, a big wave hit us and capsized the dingy. Some fancy footwork kept the camera and cell phones dry. We weren't so lucky on our second attempt. A big, crashing wave flipped us up into the air like a leaf on the wind. We came crashing down into the surf complete with phones and camera. At this point, I decided it would be safer for me to find a safe spot on the beach for Liz and to go it alone. I could paddle to the boat, mount the outboard and scout the beach for a friendlier landing area where I could pick up Liz.
After capsizing one more time, I finally broke through the surf and paddled for the mother-ship. Getting the motor onto the dingy in surging seas without help was a puzzle that took about twenty minutes to solve. Once done, I got life-vests and dry bags and headed toward shore. The surf was meaner yet and there was no comfortable landing spot to be found. I picked the best I could find.
On our first attempt to return, we were flipped into the raging surf. I had secured the phones and camera gear in dry bags and attached them to the dingy so we were glad when they were still there after righting the craft. They had no doubt taken a beating even if they miraculously remained dry. The second attempt was a complete disaster. Like a feather in the wind we were sent hard to the bottom. This time the motor crashed on to the rocky bottom and a receding wave quickly began to bury it. The fuel tank broke loose and I scrambled to save it. Liz yelled that she'd lost her prescription sunglasses in the crash; she was all but blind without them. It was a challenge getting the dingy righted. In that choices were limited (we had none), we prepared to try again. The object was to get out fast beyond the point where the waves broke before they did so. At that point, Liz would paddle from the bow and I'd quickly start the motor and we'd get on our way.
We timed it perfectly this time and got past the break point. Liz paddled and I frantically tried to start the motor. Unfortunately it had been severely damaged in the last wreck. I waited for the crash of the next big wave as I repeatedly pulled the cord to start the dead engine all the while telling Liz to keep paddling. I finally grabbed the other oar and joined in the paddling and realized we'd made it. A wave of relief swept across both of us. It took a half-hour to paddle back to the boat. Once there, we took inventory. Me - a broken nose and numerous cuts and scrapes. Liz - her share of cuts, abrasions and bruises and a severely twisted knee. One ruined cell phone. A salty camera. A 15 horse Johnson motor that was in pieces. And five pounds of sand stashed in every port, inlet, and cove imaginable on two human bodies. Once back on board, we smiled and cleaned sand for an hour. A hot shower and a fine dinner followed. It was a beautiful night and we were having a good time. What wine goes with risotto and sand? A swell night indeed.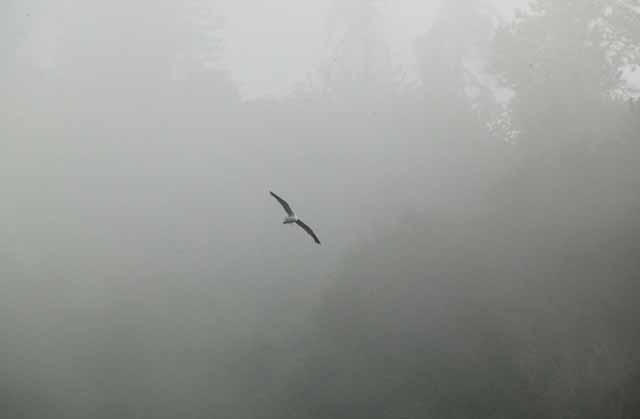 July 12: We arrived in Pelican Bay on Santa Cruz Island a little after 5 p.m. yesterday. It's a beautiful, pristine little bay 400 to 500 feet across at the widest. We picked Pelican Bay as our arrival point because it was the site of a book about a couple that settled here about 100 years ago (Diary of a Sea Captain's Wife). All traces of their settlement are long gone and the area has reverted to its original natural state. The most indescribable characteristic of being here is the sound. The walls are home to countless gulls and other water birds and their cacophony is constant and intense. It gives us a feeling of being in a prehistoric world where mankind has yet to set foot. The onslaught on our senses is increased by the fact that thousands of fish are constantly jumping from the water. At any given instant in time, we can see hundreds in mid-jump. The water is literally boiling and the sounds of splashing are continuous. Seals swim the waters gorging themselves with a unending food supply.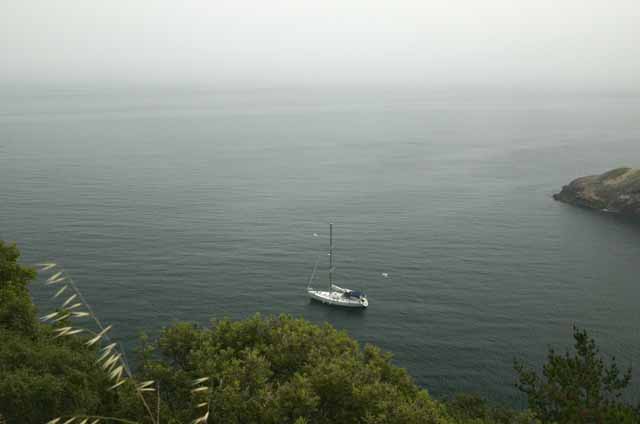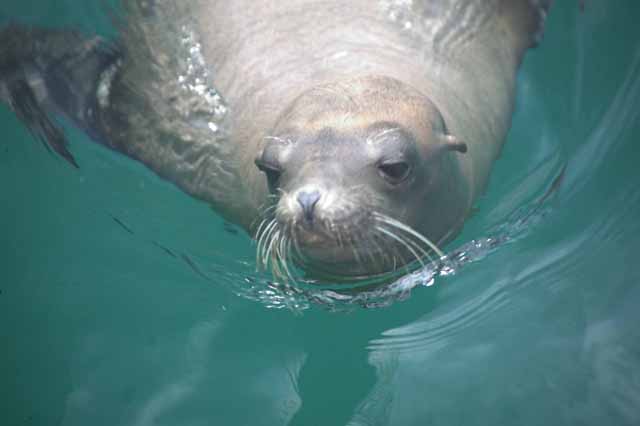 Liz prepared a fabulous meal of salmon, green-beans and naturally we enjoyed one of her signature salads. We had the best seat in the place as the fading light danced through the fog as it ebbed and flowed around us. The book about Pelican Bay mentioned is was a very protected and safe harbor. As the surge increased, we wondered what it was protected from. We rocked and rolled all night, but both anchors we'd set held and we woke this morning with the massive rock walls still 100 feet away. One particularly big surge had us wondering when things went flying off shelves and crashing to the floor. We thought perhaps we'd broken loose and been greeted by the rocks, but all was well.
Today, it's explore ashore. With a hard to get permit, we'll be one of the few people on the twenty mile long island today. When we returned to the boat, a young seal for some reason decided we were alright. In fact, a little too alright. He tried to get on the boat. When we discouraged that, he decided a suitable compromise would be the dingy. As you can see, he looked so friendly and cute that it was easy to forget he was a wild animal, very large, and was known to eat meat. We maintained a friendly relationship, but not intimate for a number of hours.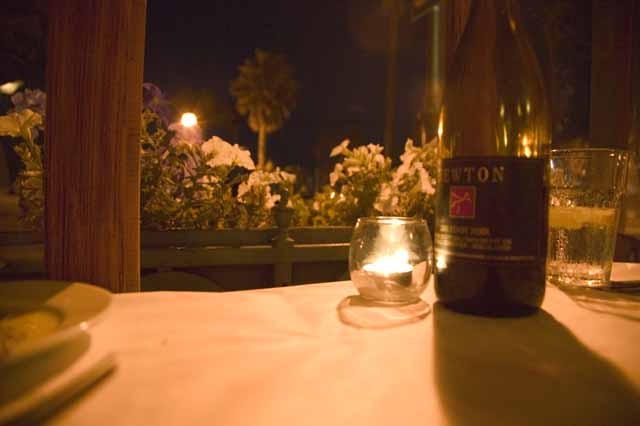 July 11: We're making our comments early today because we're about to leave Santa Barbara for Santa Cruz Island. It's unlikely we'll have internet there so we may not be updating the site until we reach Catalina in about a week. Santa Barbara's been a great town to visit and we'd be more than willing to come back in the future. Dinner last night was at a great little Italian restaurant. It was our last bit of luxury before a week and a half of austerity. We'll be generating all of our electricity and water until we get back to civilization. There are a few more Santa Barbara pictures from yesterday. More pictures.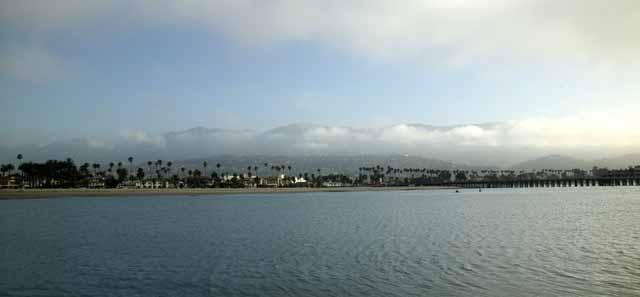 July 9-10: Lazy day in Santa Barbara. Our slip has the best view of Santa Barbara of any in the entire marina. Santa Barbara seems quite Mediterranean with houses on the mountainsides and lovely sandy beaches. Actually, we look at Santa Barbara from the boat and think of Puerto Vallarta, Mexico. It turns out they're sister-cities and share a common statue at the center of their harbor areas. We walked to a farmer's market and stocked up for the crossing that begins Monday. We'll not see the mainland for a couple of weeks so we've got to be ready to go without all the conveniences for a while (except those on the boat - which aren't half-bad). We're still working out as the Tempest has a gym onboard. Well alright; perhaps that's a bit of a stretch. You be the judge with the picture on the "more pictures" page. We'll tough it out tonight and probably have dinner at a fine Italian restaurant with the bottle of snarly Amarone wine. This cruising life is really difficult. We'll just have to keep on suffering. More pictures.
As a couple of the pictures indicate, it wasn't a "lazy day" for everyone. One person apparently thought anchors were decorative accoutrements and didn't need to be set. His insurance company can deal with it now. Another one tried to burn the boat while traveling from San Francisco to Del Rey. Vessel Assist brought him in next to us as I happened to be on the dock with a camera. This has been a fun and interesting city.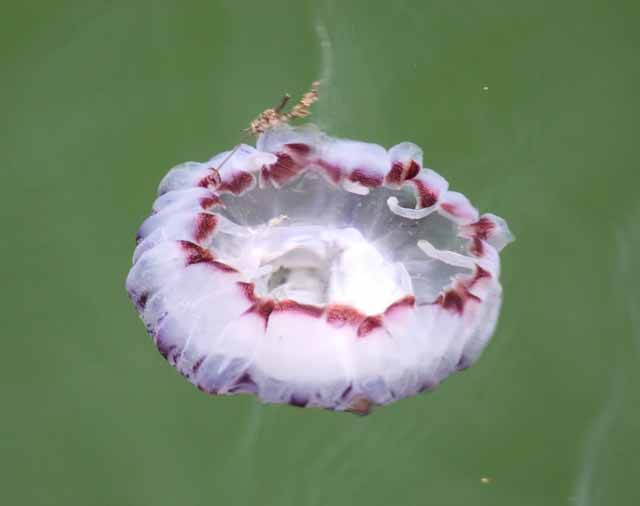 July 8: We had a fairly short, sweet and simple sail today from Ventura to Santa Barbara. Cover 25 nautical miles in less than four hours. We got lucky and got the last slip in the marina here and will stay the weekend. As we entered the slip, the welcoming committee included a variety of wild critters including this rather colorful jellyfish. We've cleaned up and will be heading to town to inspect their restaurants for dinner in a couple of hours. In the meantime, a little work is in order. Even though we've had internet connections most of our time at sea so far, sitting and staring at a computer screen while the boat's doing the Charleston on the waves isn't the greatest experience going. Most of the writing will be done while in port or at anchor. More pictures.
July 6: Nearly 13 hours after starting, we arrived in Ventura in fog. What a surprise when we got there and saw Vince and Patti Rizzo, our neighbors in Show Low, standing on the dock. We had dinner with them and relaxed after a long day. We sailed into and through fog much of the day. It was cold enough to see our breath and the uniform of the day was a blanket in the cockpit. We saw lots of the usual - dolphins, seals, and other critters of the sea. More pictures.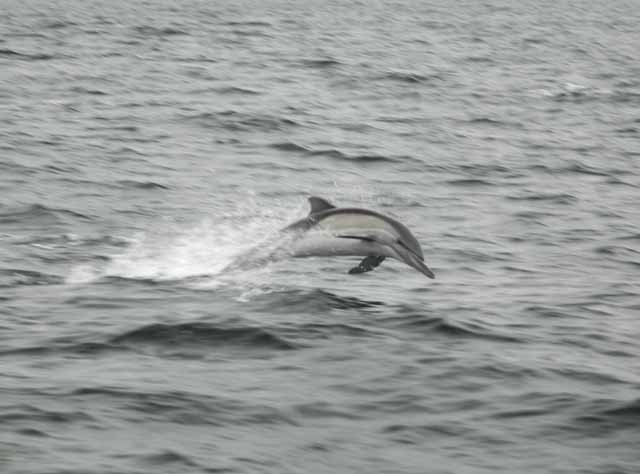 July 6: In route to Ventura. It's to be a long haul today so we left early. Winds not too favorable (like none early), so it was either have Liz row or crank up the iron sail. Rather than stretch this into another 3 a.m. arrival, we are giving ourselves a little mechanical assist. As you can see, the dolphins sure didn't object. They just love to play with boats. This was one of the bigger pods we've seen. It covered over a mile. It's just past noon and we're about 40 miles out of Ventura. Sun's coming out and the previously big swells seem to have settled down a bit for now.
July 5: A pretty easy sail today to Long Beach. We're spending the night as guests of the Long Beach Yacht Club. When we arrived in the harbor, we saw the boat of some good friends that are up here preparing to sail to Hawaii in the well known Transpac race. It will be a pleasure to see them. Strange how the mountain climbing world was so small. I saw climbers I knew all over the world. Sailing seems to be similar. Old friends and faces appear wherever we go.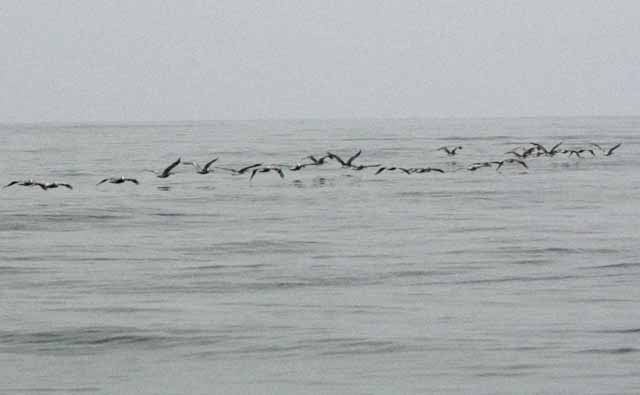 With a little research, we've learned the "red-tide" and the bioluminescence are indeed related. The red-tide makes the water somewhat like a Tennessee mud - a reddish brown color. We had to sail through more of it this morning leaving Dana Point. Once outside the tide, we were escorted for a while by this squadron of Pelicans. Fun to watch.
As we got closer to the Los Angeles area, the character of sailing changed. Big oil drilling rigs and big ships started popping up everywhere. We got into Long Beach without incident and thinking that tomorrow's sail is to be a long one, we thought it prudent to make sure our fuel tanks were full. At the fuel dock, we almost got hit by another sailboat that had itself been hit the week prior. It was seriously damaged, yet here it was at the fuel dock with a piece of fiberglass duct-taped into the hull. We weren't sure how it was still floating but it made a great ad for duct-tape. More pictures.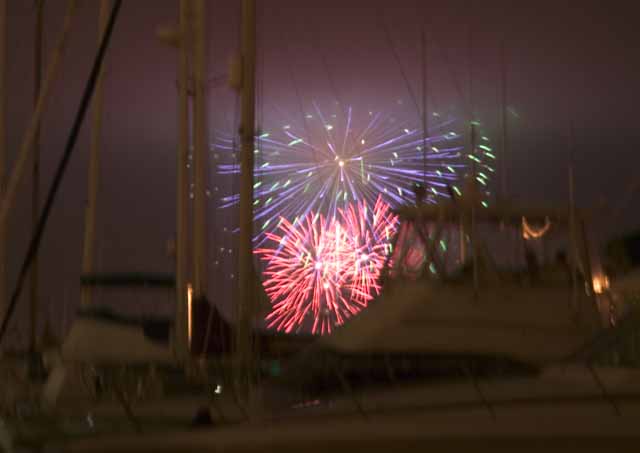 July 4: Getting ready to sail first thing in the morning. Meanwhile, the Dana Point marina is a mad-house on the 4th of July. The main channel is one giant water fight with kids and adults alike cruising with water-guns at the ready. The docks themselves are blanketed with tents, lawn chairs and tables filled with food and drink. It's funny how every marina has its own unique personality. This one seems to be eat, drink and be merry for tomorrow you may go to work. There seem to be a lot of nice people here, but generally speaking, they're not nearly as friendly and outgoing as the people at our home marina in San Diego. Perhaps it's because we're only about 30 miles south of Los Angeles and people are prohibited from being friendly there. Regardless, we've had a great time here and we're glad we came.
It was a pleasure spending the evening last night with Bob McCord and Sharon DuPont watching the sun set over the Pacific while enjoying a glass of nice wine. Steve and Nancy Judd were gracious hosts at the condo high on the bluff overlooking the marina and the ocean. Curious George Pelton was strangely absent claiming he had to be with Ahhnold. A Google Search has revealed that Ahhnold is in fact a topless dancer at a famed Laguna Beach hangout.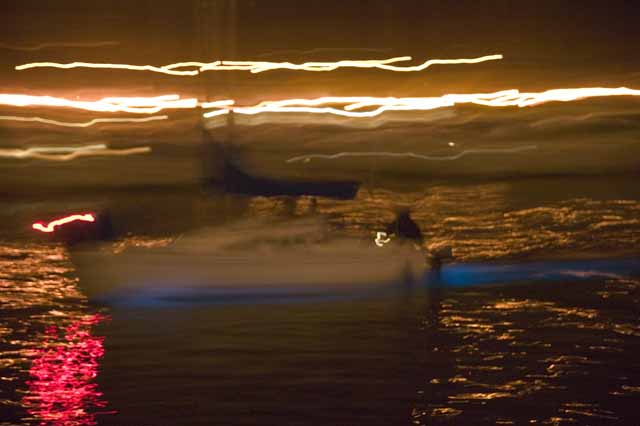 We had a rather strange phenomena with the night waters. The bioluminescence has been incredibly strong here - unlike I've ever seen it before. The slightly touch of the waters at night and the light up as if electrified. When running sea water at night through any PVC pipes onboard makes them glow as if on fire. The picture here is a boat going by in the channel. You can actually see the water glow around the bow and astern of the boat. It's simply incredible. We wonder if it's related to the amazing "red tide we're seeing this year.
Tonight it's the Dana Point fireworks. Tomorrow night we're got an end-tie at the Long Beach Yacht Club. Winds are forecast to be light, but we should be there by late afternoon. More pictures

July 1: We've spent the past couple of days in Dana Point. Seems to be a great little town and we're thinking about staying for the 4th. We're under the impression we've got the best seat in town for the fireworks. The restaurants here seem to be great and the scenery's super. We had a great lunch with Steve and Nancy Judd, good friends that owned a big Coldwell Banker operation in Arizona and sold to the same company that bought our Coldwell Banker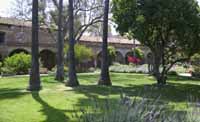 company.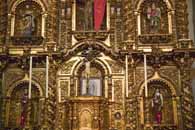 Weather's good here; morning fog but usually sun in the afternoon. As you can see by the picture, they grow lots of flowers here. Today we took a little walk (10 miles round-trip) to the Mission at San Juan Capistrano. Famous for the return of the swallows every March 19th, the mission has a very rich history. The image to the left is of the grounds just outside the church. As you can see, the alter is quite impressive. We're enjoying Dana Point enough that I suspect you won't be getting any sailing stories for a couple more days.
June 29: Left San Diego a little after 10 a.m. bound for Dana Point. The seas were 3 to 4 feet most of the day and we had a steady 10-11 knots of wind. The only problem is our route took us straight into the wind all day. We sailed close-hauled all day right on the edge of the irons. The sun set as we passed Oceanside. As I snapped the picture, we were surrounded by a pod of feeding dolphins. Funny how we never get tired of watching them frolic along side the boat.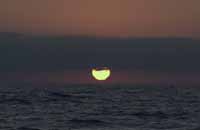 The seas picked up a bit shortly after sunset and we finally arrived at Dana Point around one in the morning. A couple of weeks ago, we'd met Tom Myers at an historic wooden boat show. His 1937 vintage sloop was named "Tempest" so we spent some time talking. When he found we'd be Dana Point bound, he offered to help us get a guest slip. It was a great stroke of luck. Coming into a strange marina in the middle of the night is always an interesting challenge. It was nice to see the only empty slip in the entire marina with our name on it. We'll probably stay here two or three days.
June 28: Boat cleaning and provisioning - ready to go?
June 27: More boat waxing and detailing. Completely replace house and engine battery banks with high-capacity gel type batteries. Major electrical rewiring.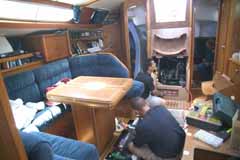 June 26: Boat waxing and detailing. Service electrical generation system.
June 25: New whisker pole, preventer system, main sheet, etc.
June 24: Single-sideband radio installation.
June 23: The tentative departure date. We're ready to go (except for completing a few enhancements and repairs).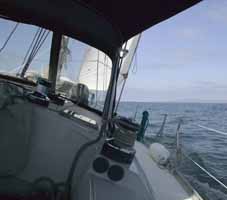 June 20-22: Repairs at Driscoll's Boat Yard.